VERANSTALTUNGEN IM KAFFEE KÖNIG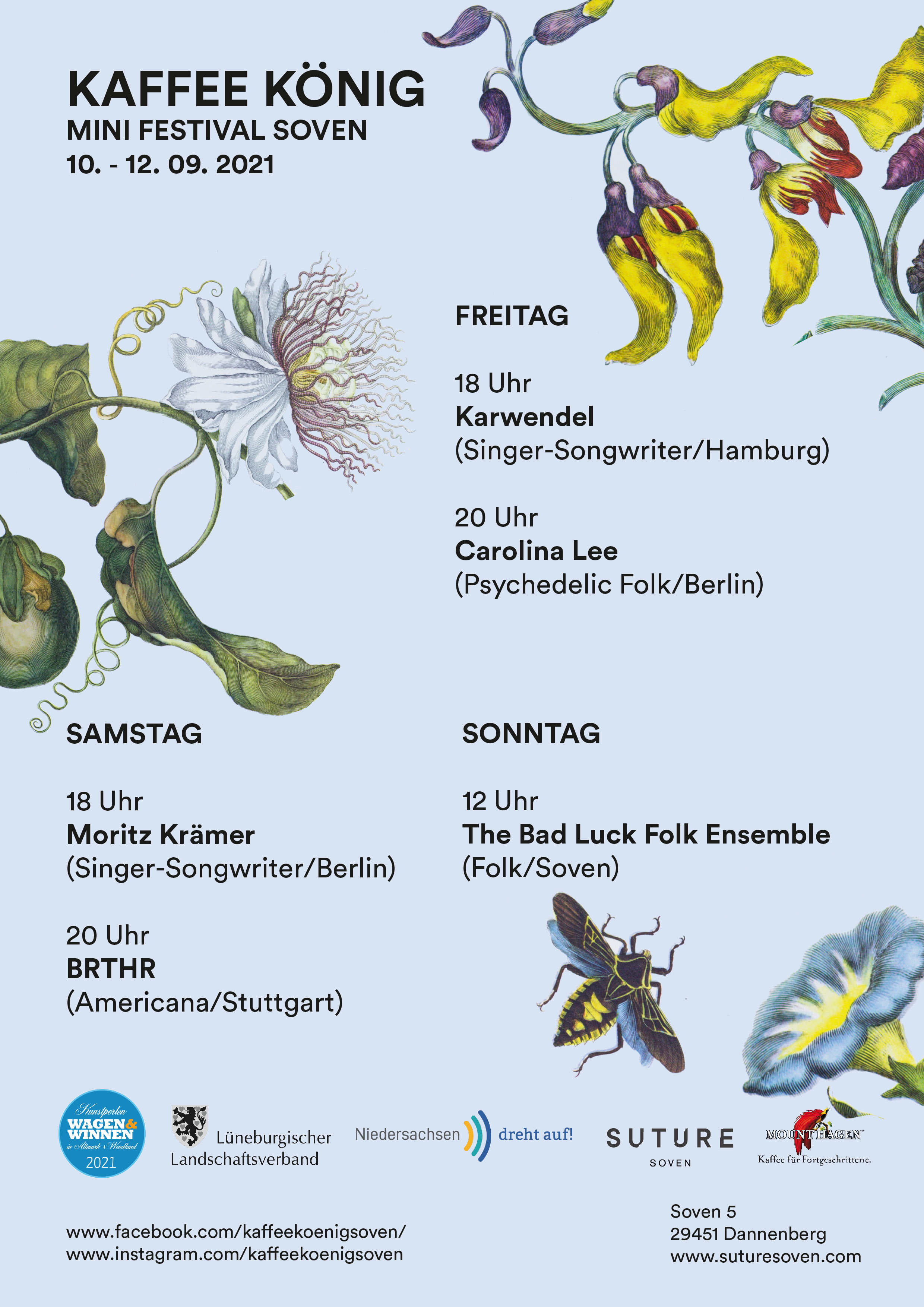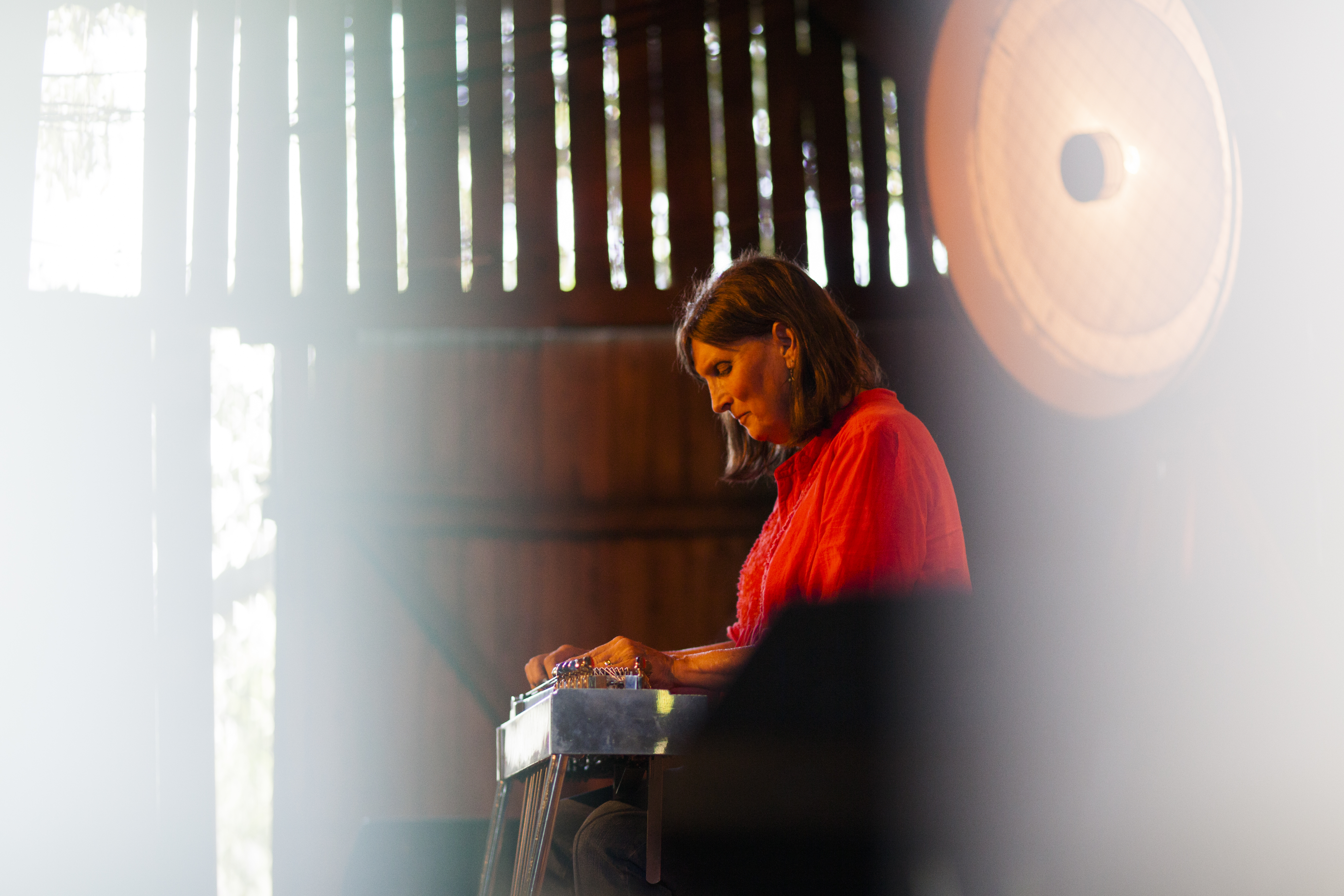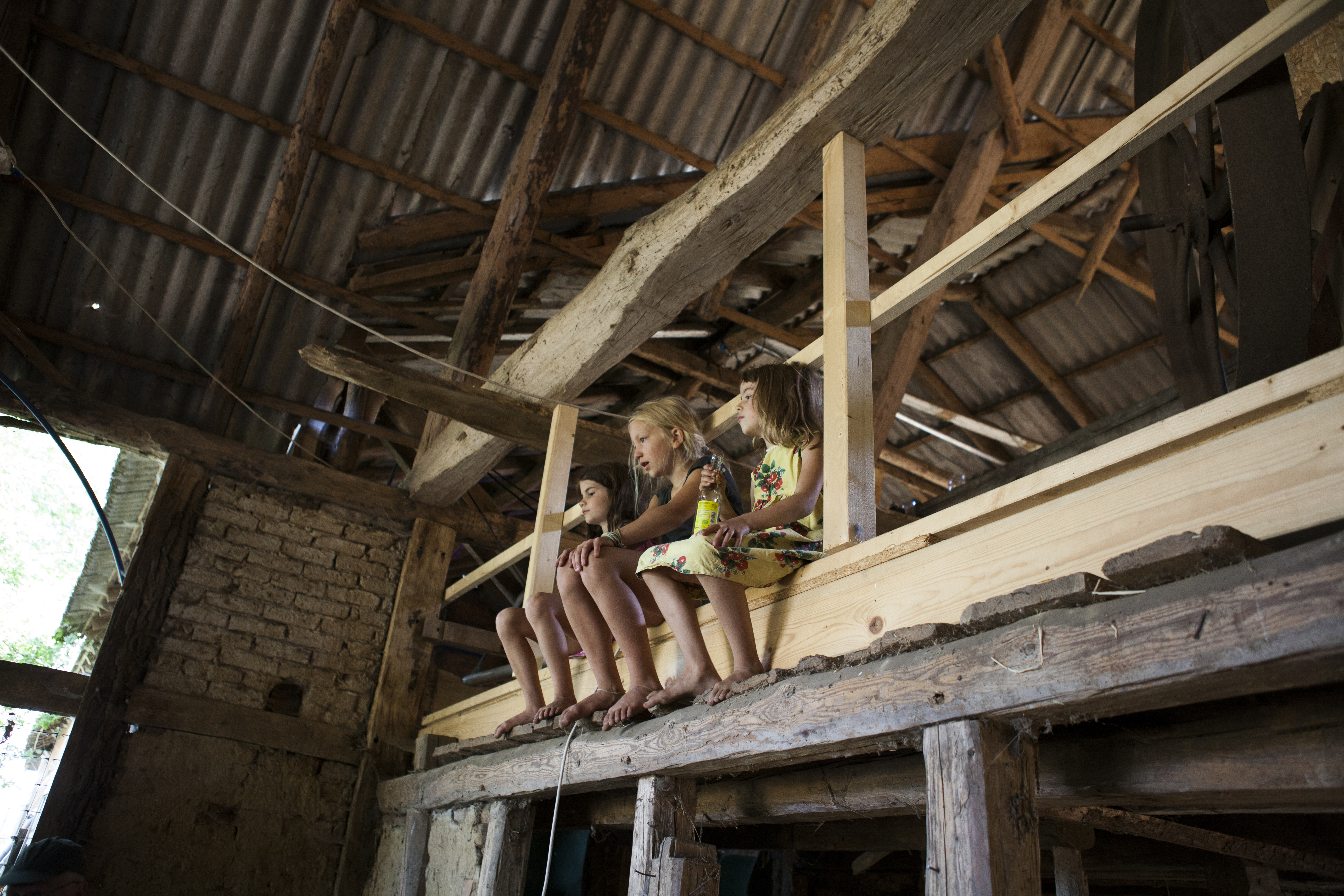 Suture Festival 2019 © Laura Braun
Kaffee König Mini Festival© Teresa Lange
Suture Festival 2018 © Szymon Gasiorek
SOVEN
Das Suture Festival findet auf einem ehemaligen Bauernhof in Soven (Wendland) statt. Das Dorf liegt inmitten des Biosphärenreservats Flusslandschaft Elbe (Elbtalaue). Wälder, Bäche und Wiesen prägen das Bild der sanften und ursprünglichen Natur des Wendlandes. Hier beherbergt das Festival zwischen dem alten Fachwerkhaus und seinen umgebauten Stallgebäuden für drei Tage internationale Musiker*innen und Künstler*innen und seine Besucher*innen. zwei Open-Air-Bühnen bieten Platz für vielfältige Klangerlebnisse mit Blick auf den alten Walnussbaum, dem Zentrum des Gartens. Wir schaffen eine ruhige, fürsorgliche und familiäre Atmosphäre, die Einzelpersonen, Familien, Freund*innen und Nachbar*innen einlädt, die musikalischen und visuellen Erlebnisse des Suture Festivals miteinander zu teilen. Festivaltickets und Tagestickets sind im Online-Ticketshop und an der Abendkasse erhältlich und nur in einer begrenzten Anzahl vorhanden.
SOVEN
The Suture Festival takes place on a former farm in Soven (Wendland). The village is located in the middle of the biosphere reserve Flusslandschaft Elbe (Elbtalaue). Alluvial forests, creeks and meadows typically make for the image of the gentle and wild nature of the Wendland. Here, between the old half-timbered house and its converted stable buildings, the festival hosts international artists and its visitors. The two open-air stages offer space for diverse and special sound experiences with a view of the old walnut tree, the center of the garden. We create a calm, caring and family atmosphere that invites individuals, families, friends and neighbours to share the musical and visual experiences of the Suture Festival. Festival tickets and day tickets are available in the online ticket store and at the box office, only in limited numbers.
©Laura Braun


ANREISE / ÜBERNACHTUNG
Bahn - Soven ist mit öffentlichen Verkehrsmitteln von den Bahnhöfen Dannenberg (5 km) und Salzwedel (30 km) aus mit der Bahn und dem Fahrrad zu erreichen. Es besteht die Möglichkeit, über unsere

Facebook Gruppe

Fahrgemeinschaften zu bilden.


PKW oder Wohnmobil - Das Festivalgelände verfügt über ausgewiesene, unbewachte Parkplätze, die den Besucher*innen während der Festivalzeiten zur Verfügung stehen. Auf den angrenzenden Wiesen und Feldern werden wir für die Dauer des Festivals einen Campingplatz einrichten, der für eine Gebühr von 5€ pro Person und Nacht zur Verfügung steht. Kinder und Jugendliche bis 18 Jahre übernachten kostenlos. Duschen und sanitäre Anlagen sind vorhanden. Beachten Sie, dass die PKW-Stellplätze auf dem Campingplatz nur für trockenes Wetter geeignet sind. Bei Regen müssen die Campingfahrzeuge auf den Parkplätzen des Festivals abgestellt werden. Wenn Sie mit einem Wohnmobil anreisen möchten oder den Campingplatz nutzen wollen, informieren Sie bitte das Festival Team per E-Mail an

info@suturesoven.com

.
In der Umgebung gibt viele Bauernhöfe oder kleine Gasthäuser, die für ihre Gastfreundschaft bekannt sind. Im Wendland finden zahlreiche kulturelle Veranstaltungen statt, so dass genügend Übernachtungsmöglichkeiten vorhanden sind.
HOW TO GET THERE / OVERNIGHT STAY
Train - Soven's nearest stations are Dannenberg (5 km from Soven) and Salzwedel (30 km). It is possible to travel from the train stations to Soven by car or bicycle. You can also arrange carpool via our Facebook group

Car or campervan - The festival area has designated, unguarded parking spaces, which are available to visitors during festival hours. We will set up a campsite on the adjacent field for the duration of the festival, which will be available to you for a fee of 5€ per person per night. Children and teenagers up to 18 years can stay free of charge. Showers and sanitary facilities are available. Please note that the camping pitches are only suitable for dry weather. In the event of rain, camping vehicles must be parked in the festival parking lots. If you plan to arrive with a camper or use the campground, please inform the festival team by emailing

info@suturesoven.com

.

In the surrounding area there are many farms or small inns known for their hospitality. There are many cultural events taking place in the Wendland, so there is plenty of accommodation available.

© Laura Braun / Szymon Gasiorek
CORONA INFO
In diesem Jahr legen wir größten Wert auf die Gesundheit unserer Besucher*innen, der Künstler*innen und des Teams, indem wir uns an einen umfangreichen Hygieneplan halten, der in Abstimmung mit den behördlichen Regelungen und Vorgaben erfolgt. Im Fall einer Absage oder Verlegung des Festivals können schon gebuchte Tickets zurückerstattet werden.
CORONA INFO
This year, we are placing the utmost importance on the health of our audience, artists and team by adhering to a comprehensive hygiene plan, in coordination with official regulations and guidelines. In case of cancellation or postponement of the festival, tickets already booked can be refunded.
Für drei Tage im August lädt das Suture Festival nach Soven (Wendland) ein. In der Stille der elbländischen Flusslandschaft definieren die internationalen Musiker*innen und Künstler*innen ihre spezifischen musikalischen Positionen. Was zu sehen und zu hören ist, kann sich in Raum und Zeit auf neue Art verbinden und im gemeinsamen Erleben nachhallen.
For three days in August, the Suture Festival invites you to Soven (Wendland). In the tranquility of the Elbe river landscape, international musicians and artists define their specific musical positions. What is to be seen and heard

can connect in space and time in new ways and reverberate in the common experience.
© Laura Braun
Das Suture Festival setzt seine vielgestaltige Programmierung fort, in diesem Jahr noch entschlossener und ausdrücklicher als in den vergangenen beiden Festivaljahren. Die eingeladenen Musiker*innen beschreiben mit ihren musikalischen Standpunkten einen eklektischen Bogen: von Punk getriebenen Improvisatoren (Terrie Ex und Andy Moor) und europäischen Jazz-Meister (Tobias Delius & Kaja Draksler), vom hypnotisierenden Trio Lotto an der Schnittstelle von Minimalismus, improvisiertem Rock und neuer klassischer Musik bis hin zu Samo Kutin, der mit seiner modifizierten Drehleier improvisiert und Naomi Satos Programm zeitgenössischer Musik für das traditionelle japanische Instrument shō über die transkontinentalen Pop Band Derya Yildirim & Grup Şimşek, die den funky Folk Sound der anatolischen Musik der 70er Jahre mit einem Sci-Fi-Touch versieht. Die Spannbreite des diesjährigen Suture Festivals reicht von der visionären argentinische Künstlerin, Malerin und Sängerin Pictorial Candi sowie der Künstlerin und Instrumentenbauerin Viola Yip, die eine ortsspezifische Licht- und Klang Performance in der Scheune aufführen wird, bis zur in Berlin lebende Musikerin Jasmine Guffond, die an der Schnittstelle von sozialen, politischen und technischen Infrastrukturen arbeitet.
Suture Festival is continuing its broad programming, this year more boldly and strikingly than in the past two editions. The festival's invitations stretch eclectically from punk-driven improvisers (Terrie Ex and Andy Moor), European jazz master (Tobias Delius), hypnotic trio Lotto (at the interface of minimalism, improvised rock and new classical music), to experimental prepared hurdy-gurdy instrumentalist (Samo Kutin) and performer of contemporary music for traditional Japanese instrument shō (Naomi Sato). To electrify the atmosphere, Suture Festival has invited Grup Şimşek, a trans-continental pop band injecting the funky folk sound of 70's Anatolian music with a sci-fi touch, the visionary Argentinian artist, painter and singer Pictorial Candi, visual and sound artist Viola Yip, who will perform a site-specific performance in the festival's barn, and Berlin-based Jasmine Guffond, an electronic artist working at the interface of social, political and technical infrastructures.
© Laura Braun & Szymon Gasiorek
Das Programm wird mit Stücken der 'Deep listening' Pionierin Pauline Oliveros eröffnet, in die Zuhörende und Künstler*innen gleichermaßen einbezogen werden und durch verschiedene Workshops erweitert, die zur Teilnahme einladen: Fotografie (Laura Braun), Tanz (Valentina Campora), ein kollaborativer Kompositionsworkshop (Greta Eacott), Nachbau einer einfachen Posaune (Samo Kutin). Im ehemaligen Stallgebäude werden Filme präsentiert: Safe Piece von Isabelle Vigier, ein Film, der eine Performance der Tänzerin Valentina Campora darstellt und Arbeiten von Candelaria Saenz Valiente (Pictorial Candi). Terrie Ex wird sein neues Buch Improvising vorstellen. Zusammen mit Emma Fisher beschreibt er darin eine Autoreise, die das Paar Ende der 90er-Jahre durch 21 afrikanische Länder geführt hat. Kaja Draksler und Szymon Gąsiorek präsentieren ihr Zine 'On Innovation and the Future of Music (and Art)'.
The program will be enriched by 'deep listening' pioneer Pauline Oliveros' pieces involving the audience and artists alike and various workshops: photography (Laura Braun), movement research (Valentina Campora), a collaborative composing workshop (Greta Eacott), building and playing with a Balunofon Trombone (Samo Kutin). In the stable, two films will be presented: Safe Piece by Isabelle Vigier, a film depicting a performance by dancer Valentina Campora and works by Candelaria Saenz Valiente (Pictorial Candi). Terrie Ex will present his new book `Improvising´ which he wrote together with Emma Fisher about their car trip through 21 countries in Africa 25 years ago, while Kaja Draksler and Szymon Gąsiorek will present their zine 'On Innovation and the Future of Music (and Art)'.
Das Suture Festival findet im kleinen Dorf Soven im Wendland statt. Das sanfte der Grün der Wiesen und das gedeckte Gelb der spätsommerlichen Felder umgeben den ehemaligen Bauernhof, der Heimat des Suture Festivals ist. Der Fachwerkhof mit seiner familiären Atmosphäre lädt ein zu Ruhe und Konzentration auf das Wesentliche. Das Festival setzt auf eine enge Zusammenarbeit mit regionalen Akteur*innen und legt seinen Fokus – ganz in der Tradition des Wendlands – auf Nachhaltigkeit und Umweltverträglichkeit.
Suture Festival takes place in the small village of Soven in Wendland. The soft green of the meadows and the sober yellow of the late summer fields surround the former farm, which is home to the Suture Festival. The half-timbered farm with its family atmosphere invites you to rest and concentrate on the essentials. The festival relies on close cooperation with regional actors and focuses - in keeping with the Wendland tradition - on sustainability and environmental compatibility.
est.jpe